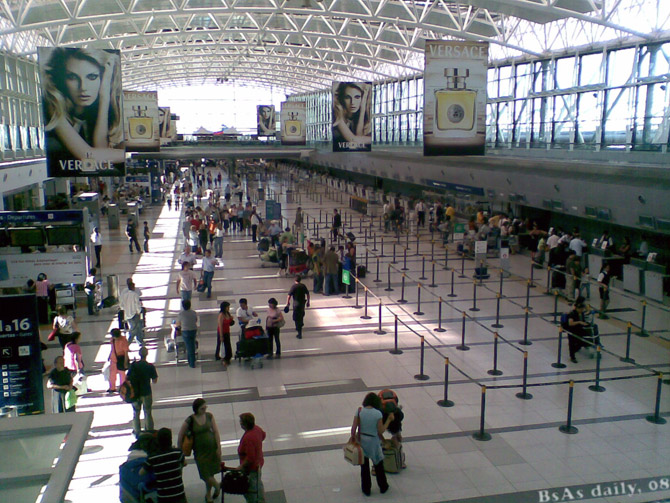 First things first- before coming to Buenos Aires it is wise to do a little research about how to get to and from the airport.  You'll likely arrive tired and a bit confused, so do yourself a favor and browse through this blog post to have some frame of reference upon your arrival.
EZEIZA (International Airport)    
The EZEIZA International airport is about 45 minutes- 1.5 hour away from the city proper, referred to as Capital Federal.
---
Taxi aka Remís
This is by far the most comfortable way to get to and from the airport. Ranging from about 30-40USD (listed in dollars because of inflation in Argentina) per direction, it is nice to be picked up at your door step and driven directly to the airport or viceversa, particularly when carting around a lot of baggage or after a 13 hour flight. You can either request a taxi in advance or contract with one in the airport.  If you are a Mente Argentina participant your ride to and from the airport will be included in your program and will be coordinated for you.
Taxi Ezeiza: http://www.taxiezeiza.com.ar/
World Car: http://www.worldcar-sa.com/bienvenido.html
Transfer Express: Tel. 0800-4444872
---
 Private Shuttles
The next most convenient way to get to the airport is by private transfers. They are relatively quick  but will not leave you at your doorstep. They will bring you to their station in the city proper. From there you can take a cab ($4-10USD) or public transport (6-8AR pesos) to where you need to go.
Minibus Ezeiza (San Telmo- Defensa 417)
This is a very cheap option ranging from $3-7USD depending on the amount of luggage that you have. The shuttle leaves every 30 minutes. The one downside of this shuttle is that it only runs Monday- Friday 8am-6pm.
 Aerobus Ezeiza (San Telmo- Av. Belgrano 254)
This is a very similar option ranging from $3-7 USD depending on your luggage. This shuttle leaves every 30 minutes but only runs Monday- Friday from 8am-6:30pm.
This is a very popular option.  It is a bit more expensive than the other shuttles ($11-15 USD)  but runs every half hour, every day of the week.  It will take you to the Tienda León's terminal in Retiro (Eduardo Madero 1299).
---
 City Bus A.K.A Colectivo
This is the cheapest (under 10 pesos) but least comfortable way to get to and from the airport. The ride lasts about 2 hours and it is a coin toss whether or not you will get a seat or not. Within Capital Federal the 8 bus stops in Plaza de Mayo as well as in Plaza Congreso.  Be sure to take the bus that specifies that it stops at Aeropuerto Ezeiza on its front.
Line 51 also will take you to Capital Federal but leaves you in a neighborhood called Constitución. Because of safety reasons, we recommend that you that you take the 8 bus. 
---
 Aeroparque Jorge Newbery (Domestic Airport)
This airport is within Capital Federal and is a 15-30 minute ride from the airport to wherever you are going within the city.
---
Taxi or Remís
This is a much more reasonable option because Jorge Newbery is in the city proper and therefore the cab ride is much cheaper.  The ride should range between $5-12 USD depending on how far you are going.  You'll get there in 15-30 minutes.  If you are with 1 or 2 friends this is your best option.
---
City Bus AKA Colectivo
There are many lines that pass by Aeroparque Jorge Newbery (33, 37, 45, and 160). The best way to figure out which one to take is to use ComoLlego, the city's website for getting around. Type in your address and it will tell you which is the most convenient bus. The bus system is quick and runs frequently. The one downside is that sometimes the buses are crowded which can be tricky when you are carrying a lot of luggage.
---
Private Shuttle
Manuel Tiendo Leon leaves the airport on an hourly basis and can bring you to their terminal -Terminal Madero (1299 Avenida Madero).  From there you can take public transportation or a taxi to get home.  We don't recommend this mode of transportation because it requires a lot of schlepping and won't save you much for your troubles.
Heather Houde