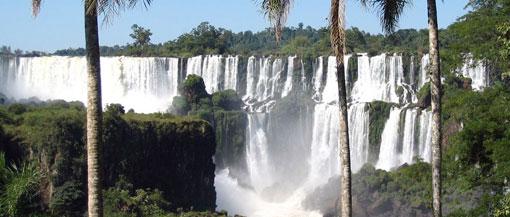 Our guest blogger, Nathaniel Shull, a current Mente Argentina participant, doing an Internship program writes about his experience going to the famous Iguazu Falls:
This weekend was my 2 day/3 night trip to the Iguazu Waterfalls, debate-ably one of the most spectacular natural wonders in the world. It is located around 1000 miles northeast of Buenos Aires, (2 hour plane ride, 17 hour bus ride, of which I did both) set on the edge of Argentina's tropical rainforest zone. Don't worry, I won't bore you with the general facts…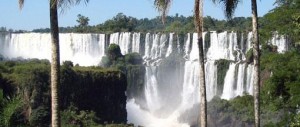 Just in case you are wondering how on Earth I organized my trip, I didn't go about it alone. Mente Argentina's partner travel agency for independent travelers, helped coordinate my trip, booking the transportation, reserving my hostel stay and finding a professional adventure tour-group. They offer very reasonable prices and really make sure your trip is the best experience; I was glad I chose them.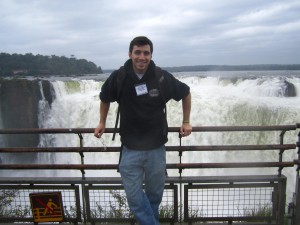 I left for the airport Thursday morning for a 1:10PM flight to Iguazu. All ran smoothly despite the slight 40 min delay in departure time due to inclement weather conditions. In line for boarding I met some other Americans, one of whom was traveling alone as well. His name was Simon G, from NYC. We shared our contacts and ended up meeting together later on (quite coincidentally if i may say). So, my flight was good; touched down around 3:30PM, and my chauffeur took me along with another lone traveler named Donal from Australia to our hostel. Traveling through the jungle for the first time is such a cool experience! The air is so fresh and its so green! I wanted there to be a sunroof, or at least stick my head out the window like a puppy-dog. Once at the hostel, I got my room key, put my stuff away and immediately went to the pool (which was surprisingly nice for a hostel). Meet another group from England and Canada, and played some water volleyball for a bit.
My new friend Donal and I both got up around 7:45AM, ate breakfast, and waited for our tour-guide to pick us up. Once in the van, we set off for Iguazu National Park. Our tour-guide (his name slipped my mind), was a very cheery fellow, and translated between English-Spanish pretty fluently (although a bit choppy, I still got the gist). First activity was to take a train to the upper portion of what is called 'La Garganta del Diablo', or 'The Devil's Throat', basically the most powerful section of the Falls. Something incredible to see…not to mention completely misty. I managed to take pictures in lapses when the winds blew the mist in the opposite direction.
Afterwards, we boarded the train back to the front entrance, at which point we took the upper trail to see other portions of the Falls. The upper trails provided an amazingly picturesque view of the Falls…it honestly seemed surreal how the water cascaded down amidst the green cliffs. We walked past around 7 separate waterfalls, each leading to the massive ravine below. By lunch, Donal, this new fella Dominik and I decided to treat ourselves to the Iguazu Parrilla restaurant, a buffet style lunch that served everything under the sun (or clouds, as it was pouring). Once satiated, we went separate ways, myself taking the option to tour the lower trails and the other guys doing the boat tour.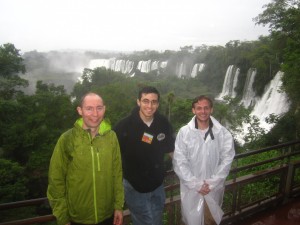 We left the park around 3PM at which point the sun finally comes out. We get back to the hostel and played some lounge games before going out that night. A group of about 12, including myself, took 3 taxis into Puerto Iguazu, the small town north of the Falls. We had a great time, bar hopping and dancing a bit. A motorcycle rally was held earlier that day, so remnants were left over from the activities. We 'only' stayed out until around 2:30AM, knowing the next day's tour began substantially earlier than the previous.
I got up around 7:15AM the next morning, jumped into an ice-cold shower to wake up, ate breakfast, and left at 7:45AM for the morning's adventures. We were to go belaying down a cliff and zip-lining through the jungle canopies. One of my group members was Simon (the kid I met at the airport), and his friend Shaneez, a British-Indian girl. We began with the belaying, which was dry, thanks to the decent weather that morning followed by the zip-lining, which was really the highlight. Flying through the canopies is an incredible rush, and we even got footage from Shaneez's camera in POV.
So that just about covers it; my crazy experience. If you ever consider coming to Argentina, I would say Iguazu is a must. Thank you so much to Mente Argentina  helping make my experience in Argentina so great!