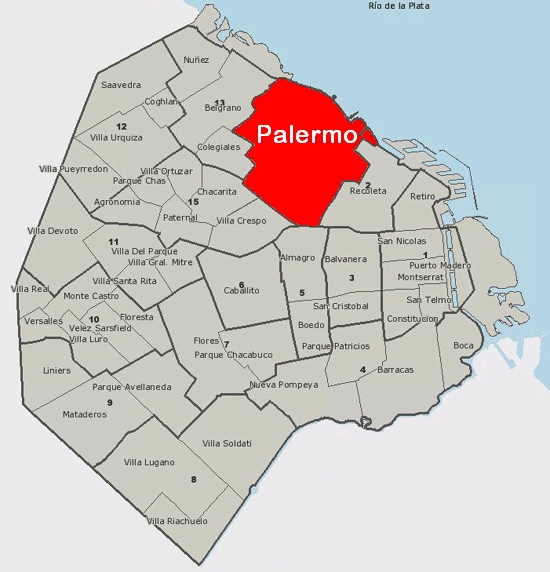 W

e know that moving to or visiting a new city can be exciting, stimulating, wonderful, charming… you get the idea. We also know that being in a new place can be disorienting and confusing at times.  Although getting lost is all part of the fun, we thought a neighborhood guide would be a helpful way for those who are thinking of visiting or studying abroad in Buenos Aires or for those who are brand new to the city to get an idea of whats what in town.

PALERMO
Your go to for night life. A top tourist destination, Palermo is the largest and trendiest neighborhood for sightseeing and people-watching in Buenos Aires. This area is filled with restaurants, boutiques, bars, and clubs. Palermo has subdivisions including Palermo Soho aptly named after Soho in New York City, and Palermo Hollywood, after the TV, radio and film companies that have their studios there. This is most certainly the part of town that never sleeps and knows no difference between weekdays and the weekend.
Palermo Neighborhood highlights
PLAZA SERRANO
This central plaza has become a mecca for restaurants, pubs, and weekend markets
BOTANICAL GARDENS: Santa Fe 3900 & Las Heras 4000
This national monument is almost 170 years old, with more than 5,000 plant species, beautiful sculptures and winter houses.
BOSQUES DE PALERMO: Av. del Libertador 3500-5000
Offering rose gardens, groves, and lakes, it is the perfect place to enjoy a picnic or a day outdoors.
NICETO CLUB:  Av. Cnel. Niceto Vega 5510
For all of the music lovers, this is one of the best places to catch live music in the city.

PUERTO MADERO
Your go to for an afternoon stroll. Buenos Aires' youngest and least conventional barrio, Puerto Madero is located along the river. Here you will find a long line of old brick warehouses that have been converted into some of the city's trendiest lofts, offices, hotels, and restaurants. It's riverside location makes for great views for a walk, bike ride, or jog.
Neighborhood Highlights
PUENTE DE LA MUJER: PUERTO MADERO DIQUE 3
Translated into English as "Woman's Bridge", this contemporary urban sculpture, designed by Santiago Calatrava, resembles a woman dancing tango.  This 160m-long pedestrian bridge rotates 90 degrees to allow water traffic to pass.
ECOLOGICAL RESERVE: TRISTAN ACHAVAL RODRIGUEZ 1500
On sunny weekends you may find dozens of picnickers, cyclists, and families out for a stroll. With over 200 species of birds, the ecological reserve is an ideal place to spend a nice Saturday or Sunday afternoon.
LA BOCA
Your go to for history and tango. A locals' neighborhood, La Boca is often portrayed as a symbol of Buenos Aires. In the mid-19th century, La Boca became home to Spanish and Italian immigrants who settled along the Riachuelo River. It's colorfully painted houses have given it an aesthetic that makes La Boca a tourist favorite.
Neighborhood Highlights
CAMINITO:PEDRO DE MENDOZA 1800
El Caminito is the barrio's most famous street and the target tourist destination here. Named after a Gardel tango song, this short alleyway offers a multi-colorful panorama that has inspired a million photographs.
BOCA JUNIORS STADIUM: BRANDSEN 805
The infamous blue and yellow, Boca Juniors Futbol Stadium is a top attraction for Argentines and tourists alike. Porteños claim the stadium trembles during games. Come experience the Argentine passion for fútbol!
SAN TELMO
Your go to for picturesque streets and antiques. The oldest residential neighborhood in Buenos Aires, San Telmo is full of cobbled streets, colonial mansions, and rich history.  It has preserved many of its architectural treasures: beautiful museums, antique shops, and old-world churches, that now serve as a backdrop for business, culture, and daily activity.
Neighborhood Highlights
PLAZA DORREGO: BETWEEN DEFENSA AND HUMBERTO PRIMERO
In the heart of San Telmo, Plaza Dorrego boasts original colonial structures and designs. It is host to the popular Sunday flea market, the Feria de San Telmo. On Sundays, streets are closed to traffic, and the plaza itself is filled with dozens of booths selling antiques and old collectibles
MERCADO SAN TELMO: BOLIVAR Y CARLOS CALVO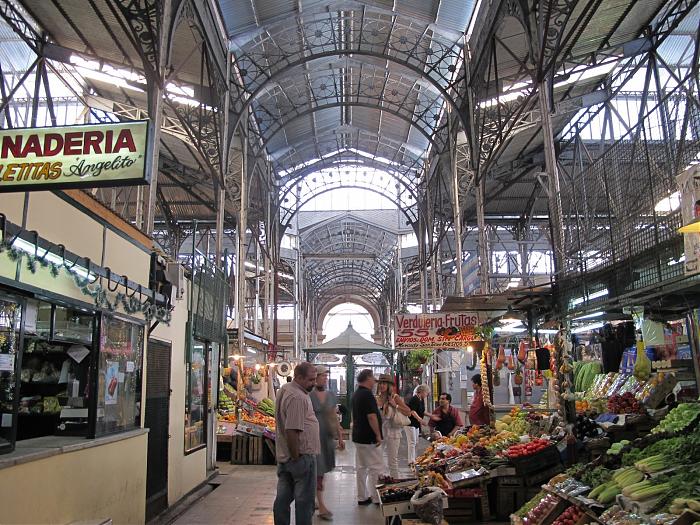 Don't miss this adorable market filled with antiques and characters of all sorts.  From fur coats to strange porcelain dolls, this is an excellent place to visit even if just for the atmosphere. Its exposed internal structure makes for a lovely place to have a coffee and people watch. On Sundays all of the stands open and it is full of movement as a result of the sunday street fair.
MICROCENTRO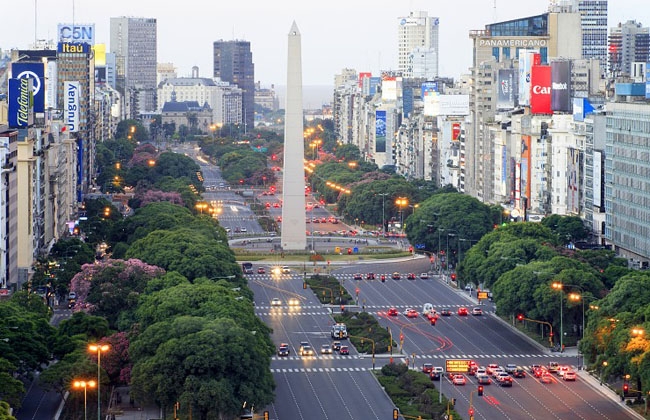 Your go to for pizza and theater. Buses, taxis, and people whiz by the narrow streets and sidewalks of this bustling "micro center," which is packed with people until at least midnight every day. Lying east of Avenida 9 de Julio—the world's widest avenue—Microcentro has a heavy concentration of businesses, bank headquarters, international corporate offices, and governmental institutions.
Neighborhood Highlights
CALLE FLORIDA:SANTA FE 600
A pedestrian street that dates back to 1913, Calle Florida starts at Avenida de Mayo and continues for 1Km until the beautiful Plaza San Martín in Retiro. With shopping malls (Galerías Pacífico), designer stores, leather shops, and souvenirs, Florida Street is a great place for people watching and shopping.
 El CUARTITO: TALCAHUANO 937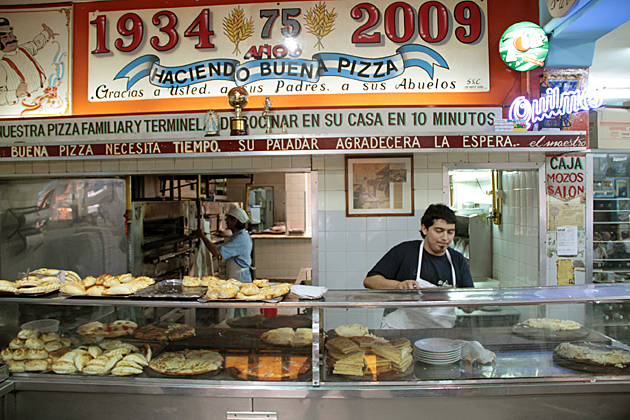 Buenos Aires pizza is a rite of passage in this town.  There are many in microcentro but a crowd favorite is El Cuartito. It is adorable and delicious!
RECOLETA
Your go to for sight seeing. A residential and commercial district, filled with French-style buildings and art nouveau constructions, Recoleta is one of the more upscale neighborhoods in Buenos Aires.
Neighborhood Highlights
PLAZA FRANCIA:DEL LIBERTADOR & AV. PUEYRREDON
Recoleta's central plaza is surrounded by coffee shops, restaurants, and important sites such as the Iglesia del Pilar, Palaise de Glace, and Recoleta Centro Cultural—a cultural center that hosts exhibitions and concerts. Every weekend the Plaza becomes bustling with people enjoying cultural activities and its famous artisanal market.
RECOLETA CEMETERY: AZCUENAGA & VICENTE LOPEZ
The Recoleta Cemetery contains remains of some of the most influential figures in Argentine history—including Eva Perón.  Its marble mausoleums and sculptures make it more than just a cemetery, it is a museum!
BELGRANO
Your go to for a quiet afternoon. A residential neighborhood in the north of Buenos Aires, Belgrano offers both a peaceful oasis, as well as commercial energy.  A web of quiet, leafy, inner streets, reside in close proximinity to huge commercial shopping strips along the busy Av. Cabildo.
Neighborhood Highlights 
PLAZA BElLGRANO:JURAMENTO 2200
The Belgrano Square is home to Catedral Belgrano, popularly called "La Redonda," and four museums. During weekends, the plaza becomes an important meeting ground for artists who host a crafts market.
BARRIO CHINO:JURAMENTO 1600
A colloquial misnomer granted to this unofficial neighborhood, Chinatown accommodates diverse Asian ethnicitieswho moved here in the middle of the 1980's. Chinatown is the best place to find spices, sauces, and goods that are not found in common grocery stores.  This barrio is also the go-to spot for Chinese massage and alternative medicine.
Edited by Heather Houde