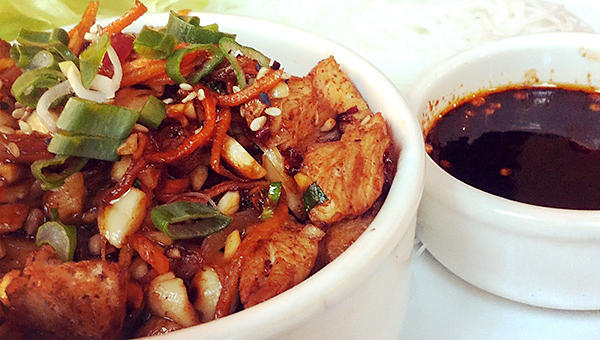 You have probably heard of puerta cerradas by now. Known as closed doors in English, these restaurants do not advertise their locations to the public and often exist inside the chef's home, stimulating an air of a home cooked meal created by a professional chef.  It can be liberating and relaxing to eat an extravagant meal without having to even glance at a menu.  Each puerta cerrada has a very unique ambiance. For instance, New Orleans native Liza Puglia has succeeded in creating the atmosphere of a dinner party at her puerta cerrada: NOLA This festive, social gathering has two large tables, where people sit communally. Liza infuses flavors into her four course experience that may be impossible to find elsewhere in Buenos Aires, with spices, kicks, and impeccable wine pairings. When you arrive, her partner greets you at the door with a glass of champagne, and leaves you to mingle with the other guests. Some puerta cerradas, on the other hand, are more intimate, such as Paladar, which appeals to the romantics more than the social butterflies. Similar to NOLA, Paladar pairs each course with vino, but the living room is smaller and dimly lit. Upon arrival, I was immediately escorted to a cozy couch, where I cuddled with my date in front of a fireplace. At both restaurants, as I rang the doorbell at the seemingly simple residence, it thrilled me to be in on the five course fine-dining secret that the man walking his dog behind me had no clue about. However, as exciting as these experiences still are, they are becoming old news in this town that always lives on the edge. Puerta cerradas have recently been forced to step aside from the spotlight to make way for the newest sensation: pop-ups.
Pop-ups, as the name implies, occur when a chef cooks an original menu in another kitchen, often another restaurant or bar, but may also be an art gallery, museum, church, etc. For instance, every Wednesday a pop-up called Poke comes to bar and restaurant. Magdalena's Party.  At Poke, California native Mychael Henry fuses Central American, Peruvian, Hawaiian, Asian, and Californian cuisine, changing his menu weekly. Word of mouth and social media, working in full momentum, have turned these experiences into a phenomenon in recent years. Pop-ups also have set menus and multiple courses, with more adventurous flavors and elements of fusion that you cannot find in an average Argentine meal. In a city taken over by carne and empanadas, puerta cerradas and pop ups alike, allow for chefs to test their creativity and take risks without the overhead costs of a restaurant, especially with the economy in its dire state. The common Argentine cuisine, as well as palate of Argentines is often more bland than many expats like, however recently, Argentine chefs are using these sensations as a way to test out creative and more vibrant dishes, as well. For instance, at Gajo, local chefs come together to serve a six course meal of spiced up contemporary Argentine dishes, often including yerba mate sorbet for dessert. Lists of favorite puerta cerradas are posted all over the internet, but my personal favorite food critique, Allie Lazar lists hers on Pickupthefork.
Finally, if you have a passion for food and wine, you can come to Buenos Aires and learn how to create your own puerta cerrada or pop-up in top notch cooking schools Mente Cooking Program in Buenos AIres. or if you want to focus more on the wine pairing, my personal favorite element of these experiences, this is a perfect way to get started Mente Wine Program.