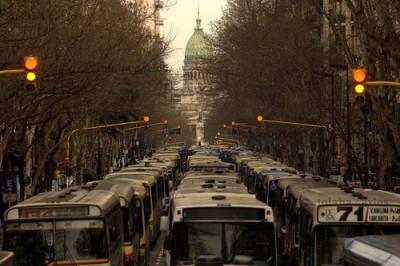 Getting around the Buenos Aires City is an experience in and of itself.The city of Buenos Aires extends 202 square kilometers, divided into 48 different neighborhoods (barrios in spanish) with about 13 million people inhabiting this incredible bustling city. Being a business and trade capital of South America, the public transportation that you use to get from your mente argentina apartment or argentine homestay to your internship in buenos aires is also used by the locals, young and old, people living in the city and out in  la provincia, tourists and travelers all year long! Here is a little Mente Argentine break down on how to get around Buenos Aires: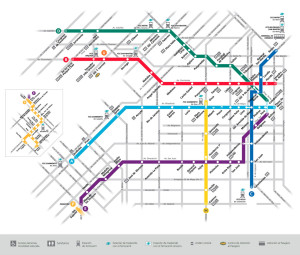 The Buenos Aires subway system has 6 lines, differentiated by color and number. Lines E (purple) and A(light blue) run down the southern end of the city, lines B (red) and D (green) on the northern, and the C (dark blue) and the new line H (yellow) run perpendicular and serve as connections In between lines as well. All the lines converge in the very center of the city, around Corrientes and 9 de Julio or near Plaza de Mayo where the casa rosada (president's house) is located. As Mente Argentine study abroad participants, you will mostly be using the B and D lines that run down Corrientes and Santa Fe, going through the center of the city as well as Palermo, Recoleta, Belgrano, Abasto, Once, Villa Crespo, Micro Centro, all some of the most interesting and popular neighborhoods in the city!
Fun Fact:

The

A (light blue)

line is the original subway line opened in 1913 making it the first subway system in all of latin america and the southern hemisphere. The subway cars are older, made of wood and have hanging latern-style lights, the doors still open manually, and the trim on the walls in the stops are marked with different colors so that during rush ho
ur it is easier to see when to get off. If you havent yet ridden the A line, go take a trip to Caballito or Carabobo just to get the original subte experience!
The bus system in Buenos Aires can seem quite complicated at first, but after a w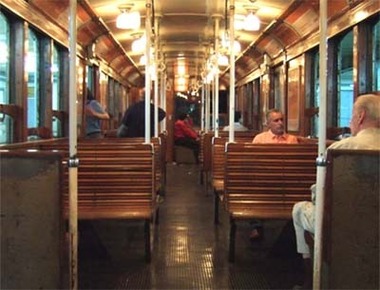 eek of getting used to, it is one of the truest porteño experiences you can have! Finally memorizing one of two bus lines can be quite the accomplishment.
There are over 135 working bus lines going not only through every neighborhood in the city, but also taking you to several cities in the Buenos Aires province. The bus has to be flagged down when waiting at the bus stop, and you have to tell the driver how much you want for your fare (general 3.50).
Fun Fact:

The bus system used to work on commission for the bus drivers but it became a dangerously competitive system, and the buses stopped being efficient as well as safe. Drivers would choose not to stop when it wasn't worth it for the number of passengers they could pick up, and would drive more recklessly. As a solution to these issues, it was changed into a privatized system, meaning individual bus companies own individual bus lines.
The trains are used mostly by those living out in the province of Buenos Aires, only about 40 minutes to an hour away from the city. But the train is an incredibly easy and cheap way for commuters and travelers to get in an out of the city. There are also long distance trains that can take you to cities outside of the province, to great cities like Córdoba, Tucumán, Rosario and many more. There are a number of different urban trains, but they aren't used as frequently as the busses or subway. One common trip however is the train to Tigre, a city outside of Capital Federal based on the river, that is often considered a nature escape to the porteños. You will get the train experience and a taste of tigre on our Tigre Excursion in Buenos Aires included in the program, but if that's not enough, hop on the train from Barrio Chino (Chinatown) or Retiro for a day trip out of the city!
TAXIS – RADIO TAXIS
Taxis in Buenos Aires, like in any big city, can be run through a recognized taxi company or not. Both locals and us here at the Mente Argentina study abroad office stress the use of company taxis, marked as Radio Taxis on the doors or taxi light on top. The Radio Taxi sign simply shows that said taxi is associated with a company that you could call and access, which makes it a safer ride. Though most taxis are painted yellow and black and say taxi on them, not all are radio taxis, and are not your safest bet.
Fun Fact:

 Companies and frequent travelers also use Remises which are similar to taxis but are run through a car service. They have a fixed rate and only work when prearranged so it is a very secure form of travel. When coming in to Buenos Aires to study, you will see our Remis or Taxi waiting to pick you up and take you straight to your house. For more information about how to get to and from the airport, check out our blog post that gives you a breakdown.
Payment & Navigation 
Public transportation in Buenos Aires is very cheap. Ranging from 3-5 pe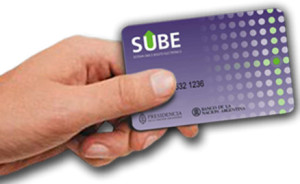 sos per ride, each
ride can be paid using your SUBE card. You can load pesos on your SUBE at any subway station and at some kioskos (small convenient stores) as well.  You can buy a SUBE card at most kioskos. If you are a Mente participant you will recieve a SUBE card upon your arrival in Buenos Aires.  The SUBE card goes to -10.
If you forget your SUBE card or do not have any charge on it, you can pay for a bus ride using change but the ride is a bit more expensive and will typically cost around 6 pesos.
For the tech savvy, The easiest way to navigate public transportation is to use the handy applications that tell you how to get from A to B using the buses, SUBTE, and even on foot or on bike if you are feeling adventurous. Check out our blog post about Helpful websites and apps for more information. It is a good idea to download the offline map of Buenos Aires just in case you get lost and don't have credit on your phone.
For those of you who will not be carrying a smart phone while in Buenos Aires, it is good to have a paper ma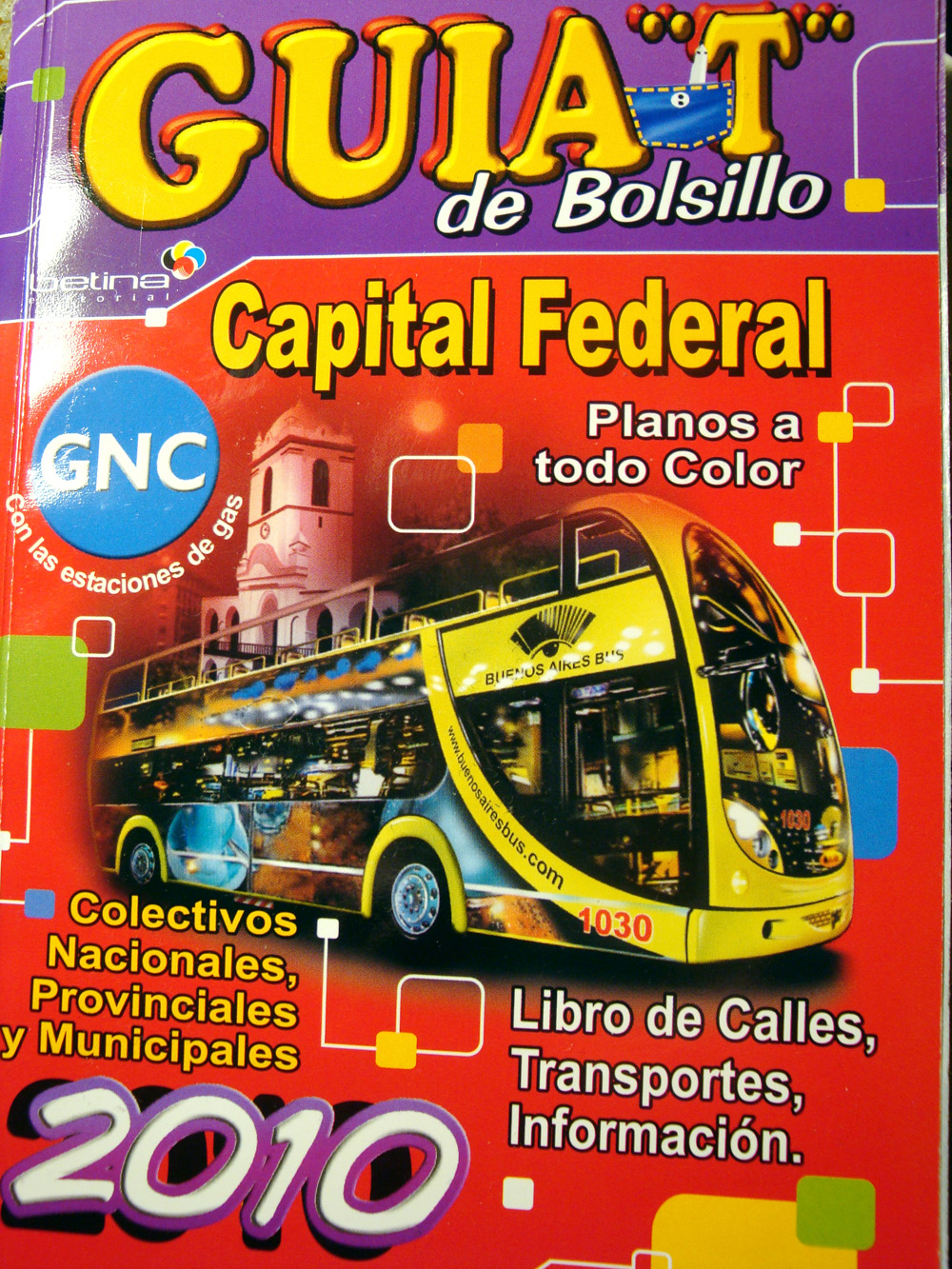 p and a Guia "T" handy. A Guia "T" is a transportation savior for the student/intern in Buenos Aires. The Guia T is a booklet that shows every neighborhood and every street in Gran Buenos Aires, zoomed in for a neat map view, and divided into pages and quadrants. But the most important part of the Guia "T" is that each quadrant marks which bus lines pass through that square. When you find a bus line that works for you, you look up the streets it runs down in the back, and see where you will have to get off.
When unsure, don't forget about the good ol' option of asking a local.  Porteños tend to be very friendly and impressively well informed about how to get to where you need to go. It is a great way to practice your spanish and strike up a conversation.
Suerte! 
Written by Rachel Sherman, edited by Heather Houde @ Mente Argentina